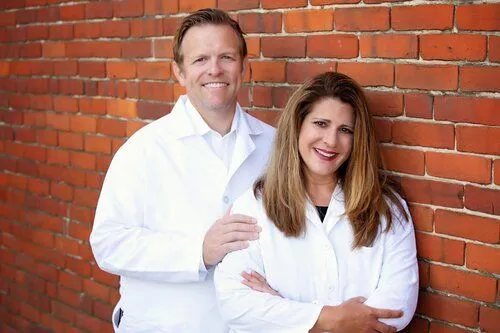 Dr. Maryann Jacko & Dr. Jonathan Siefker
Doylestown, OH Dentists
Doylestown Dental
Dr. Maryann grew up in Parma, OH and attended Padua Franciscan Catholic High School. She is a graduate of Baldwin Wallace University in Berea, OH with degrees in chemistry and history. Dr. Maryann attended Ohio State University College of Dentistry, graduating in 2000.
Dr. Jon grew up on a farm outside a small town in northwest Ohio called Kalida, where he attended public school. He graduated from Vanderbilt University in Nashville, TN, then attended the Ohio State University College of Dentistry, also graduating in 2000.
Within three weeks of graduating dental school together, Dr. Maryann and Dr. Jon were married in Lakewood, OH. Dr. Maryann's earliest dental experiences took her into nursing homes where she provided dental care to the sick and elderly. Dr. Jon's earliest dental experiences were providing dental care via the Cleveland Veterans Administration Hospital.
Together, they came to Doylestown, caretaking the practice built by Dr. Olin Bleichrodt. They quickly remodeled and upgraded their Civil-War-era building to provide 21st century dental care for the people of Doylestown, Chippewa Township and the surrounding areas for the past eight-plus years
During this time of building a growing, thriving practice, Dr. Maryann and Dr. Jon started their family and have three incredible children, Andrew (age 12), Jack (age 9), and Elizabeth (age 8). The family has been living in Medina for the past 13 years. They love the honest, hardworking people they have met over the years, and they enjoy learning new ways to enhance the dental health of their patients. Dr. Maryann and Dr. Jon are also caretakers of a dental practice in the small town of Wellington, in southern Lorain County.
Family and friends are very important to Dr. Jon and Dr. Maryann. Most of their free time is consumed with their children's activities. They also love to travel, usually with their family.